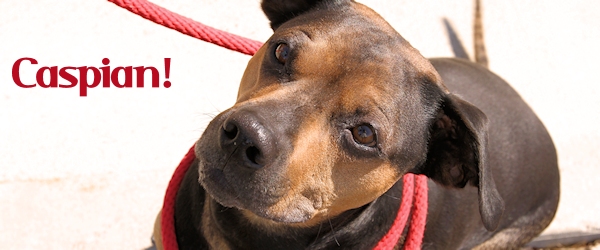 A sad start…
Caspian sat in a dark corner staring up with the saddest brown eyes. Our Cassie was at the shelter picking up another unclaimed stray when she spotted him. She reached in, touched the top of his Rottie head, and felt the softest, smoothest hound fur. He spoke to her soul in the silence that hung between them. It was on this night, April 11th, that Caspian's fate changed forever. He would not be destroyed. Caspian came home with Cassie to receive a second chance at life.
Caspian's microchip lead to his owner but her response was astounding. She was sick and tired of looking for him after he repeatedly wandered out through the hole in her broken fence. "You can keep him," she said.
… What?
But he's the happiest, healthiest, hammiest dog!
As we quickly got to know this handsome 3-year-old fella, we can't believe he'd be thrown away without a second thought. He stands up to give gentle hugs while he kisses your chin, and he dances for treats. So eager to please, he immediately sits on command, lays down and stays. He's good on a leash, travels well in the car, he's content in his kennel, he takes treats gently and he's house trained. He's good with other dogs and couldn't care less about cats. He's also neutered and perfectly healthy.
Oh, and those sad eyes staring up at the shelter? Yeah. He's not the least bit sad when he's in a loving environment. In fact, he's a beautiful and jolly soul who can brighten even your darkest day.
Adopted!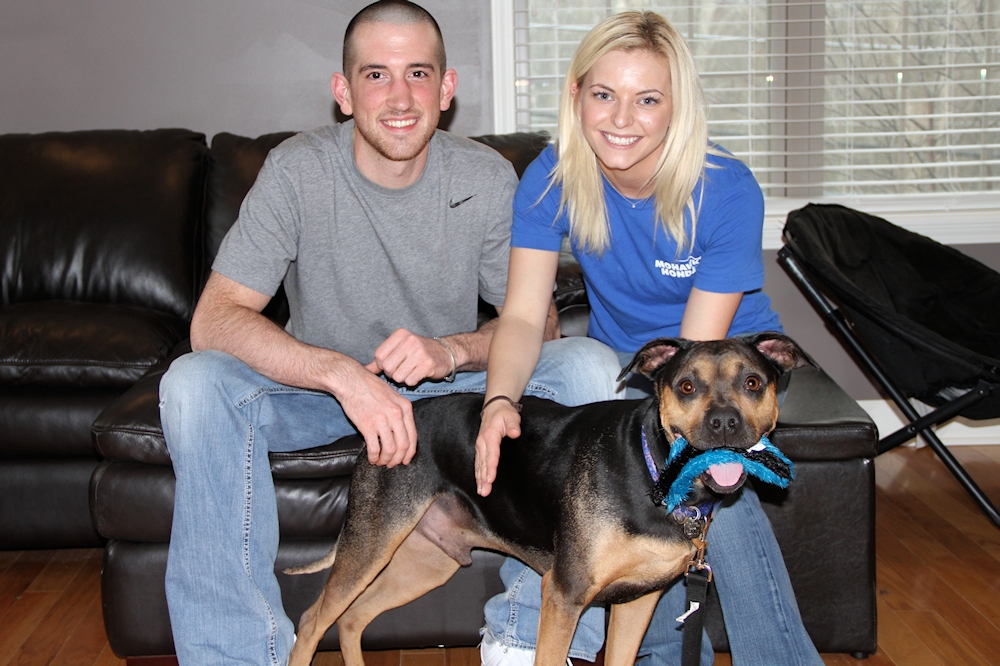 Tiffany Bellow and Stephen Smith have found the love of their lives. Tiffany met Caspian during an adoption event at Mowhawk Honda where she works. She spent the entire event visiting with the boy who eventually became her dog.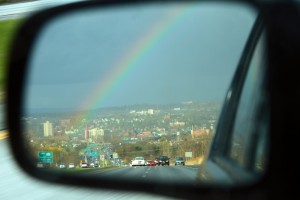 On  May 1st, as if Casper needed a symbol of hope, the most beautiful rainbow appeared as we set off toward his new home. Caspian officially joined the family that day, gaining two doting owners as well as two furry brothers, rounding out a sweet and playful circle of love. Beta cat boldly stepped up in a gesture of friendship and Jack, the dog, learned that both he and his new brother shared all the same likes and knew all the same tricks!
Tiffany shared this note on May 9, 2014:
Caspian is loving his new home! He has two brothers, Jack (our yorkie) and Beta (our cat) and they are getting along wonderfully. "Casper" as we've come to call him, is having a blast tearing apart toys and playing 'catch me if you can' with Jack. He has claimed his favorite fetch ball and is practicing his tricks in unison with Jack. He has also become a new favorite family member at our second home, Mohawk Honda! We can not thank you enough for rescuing Casper on a whim! Our family feels complete and we wouldn't have it any other way. Thank you!
We are so thrilled to hear all about this beautiful dog's new-found joy and the joy he brings to everybody he meets. Congratulations to the whole Casper family! Keep us posted. We can't wait to hear more!