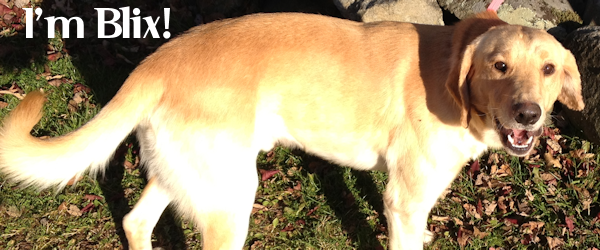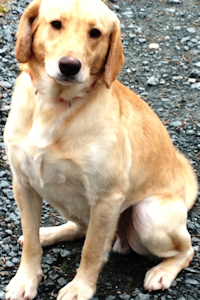 Sugar Sweet Yellow Lab
Young Male 
Neutered and Vaccinated
Hi! I'm Blix. I have a family to snuggle and play together with this holiday season and for a long, long life to come!
This fun-loving turkey was caught chasing a flock of domestic turkeys through Pittstown, NY. On the lam with another lab partner in crime, Blix was the only one apprehended for having the turkey-trotting time of his life. Sadly, his owner never reclaimed him.
This gentle boy has a silly streak, to be sure, and there's also a super soft side to this great dog. He just loves people, pets, and life in general. He'll greet you with a hug and sit with a smile when you're near. Take him for a walk and he'll lean into whatever kind soul is on the other end of his leash. Once loaded with ticks with hair missing from his floppy ears, he's cleaned up so nicely and he's house trained too!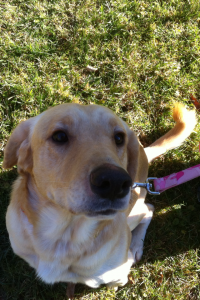 Volunteer Gabrielle Gerber had this to say about time spent with this precious pup:
I really enjoyed walking Blix, he is fun and loving! He loves the outdoors and is an excellent walking or jogging buddy. He did not pull when walked and was extremely gentle. Though he was skittish at first, he quickly warmed up to me, and by the end he was begging for belly rubs. He also loves getting his picture taken and lots of attention!  Blix is an obedient and very trainable dog, and would be a great family pet because of his calm disposition and loving attitude.
Adopting Blix is hitting the dog lottery!
ADOPTED!
Blix found the holiday and forever home he deserves! His new family comes complete with two sisters, Cathleen and Gabby, who fell in love with him the minute they laid eyes on him. It looks like he already loves them too! Happy Holidays, Blix, and cheers to a lifetime of many more to come!