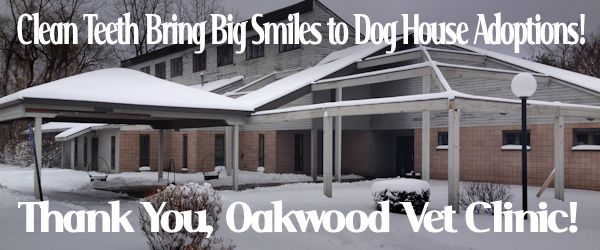 The kind folks at Troy's Oakwood Veterinary Clinic held a raffle in honor of February's National Pet Dental Month. For just a buck, entrants could win a free dentistry visit for their pet and a gift basket chock full of smile-inducing dental prizes.  But the buck and smiles didn't stop there. Oakwood's sister hospital, The Boght Veterinary Clinic in Cohoes, held the same raffle. All proceeds went to a special charity chosen by their receptionists and funds raised were matched, buck for buck, by each clinic.
The Lucky Winner…
As if all this wasn't enough to make our tails wag, front end receptionist and manager Jeanne Taglione chose Dog House Adoptions to receive Oakwood's charitable contribution of a whopping $425.00. Dawn Niebuhr accepted the check with sincere gratitude from Jeanne and Alexis.
All of us at Dog House Adoptions are deeply moved by this generosity. The donation will likely be used as springtime seed money for a fenced play/training yard where volunteers can help our strays prepare for life in a new home. Thank you, Oakwood! Our fundraising toward this effort will begin right around the bend with our first upcoming birthday!
And speaking of birthdays…

Celebrating their 2nd full year this week, Oakwood invites you to join them as they head into their third:
Please enjoy complimentary coffee and donuts when you visit us this week as a thank you for your continued support and loyalty! We look forward to serving you and your pets for years to come!
Need a new vet? The Oakwood Veterinary Clinic is accepting new patients and serves Troy, Melrose, Schaghticoke and surrounding areas of Rensselaer County. The clinic staffs 5 experienced veterinarians and 2 dozen support staff offering complete wellness care, vaccinations, routine and specialized surgery services scheduled daily. Have a busy schedule? Evening appointments are available until 7pm with extended hours on Saturdays. Best of all, the BVC has some of the most distinguished veterinarians in the profession.
Our friendly staff treats each animal as if he or she were their own and aims to please every client.
Meet the people who make Oakwood special…
Dawn Niebuhr received a private clinic tour and discovered some terrific clinic features, including:
Large reception area
6 exam rooms
Grieving room
In house pharmacy
Large surgery suite
Large treatment area
State-of-the art machines
Digital Radiography
Exotics
Offices
Coming soon…
Dental suite
And much more to come…
Below are the Exotics and Grieving rooms.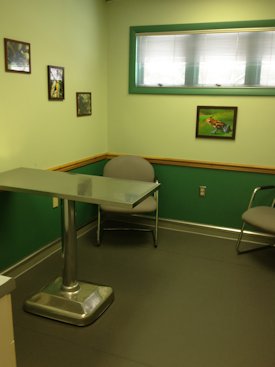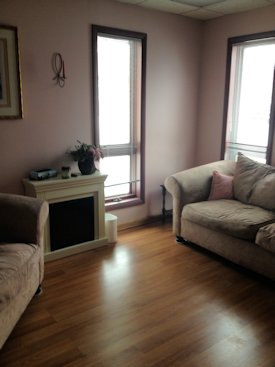 Visit Oakwood Veterinary Clinic
at 205 Oakwood Ave, Troy, NY 12182
or call (518) 874-1718 for more information.
We can promise that Oakwood really cares about animals and their people!