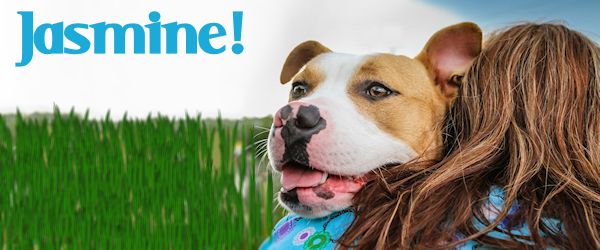 All American Blend
1 Year Old, Female
Spayed and Vaccinated
Hi! I'm Jasmine and I can sniff out love. My sweet, speckled nose is leading me straight to YOU!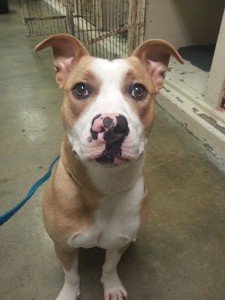 Jasmine, a calmer dog who is fit enough to keep up with your active lifestyle, could go either way. She's happy to cuddle sweetly, smooshing her nose in your neck while sitting on your lap as though she were just an itty bitty thing, or she can romp and play. She'll be perfect on the trail, since she's not a cat chaser and probably doesn't have a lot of prey drive. Cats strut right by and she pays no attention. She's terrific with other dogs, too — and almost too terrific, not taking cues when they aren't interested, but she'll never go nose to nose with any intent but to offer a sweet hello.
Jasmine's time was up at the East Greenbush stray hold but, thankfully, Jasmine's sweetness had earned her an extension until we could come rescue her. In fact, that not only names her Jasmine Rice, they called her "She Who Dances with Butterflies."
What breed is she? She has a bit of a Pit Bull look to the untrained eye, but her jawline is too square and her hair is way too soft.  Cassie, who first assessed Jasmine, says her fur "feels like a fuzzy dog cut down short. I vote for All American Mutt." Meek at first, Jasmine warmed up quickly, then she briefly bounced with excitement before laying down with a sigh of contentment.
Adopted!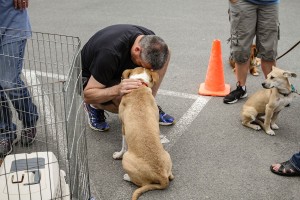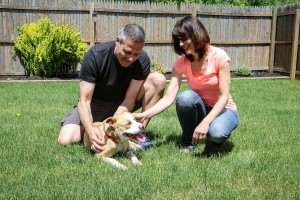 Karen Pluckrose, her husband and their daughter were looking for a special dog to fill that loving space that had been empty so long since their former dog passed on. Jasmine is that dog. The family had nearly given up their search until they met her.
Jasmine has the promise of daily walks by the river and warm hugs again and again. She's already playing fetch in her brad new yard and has a soft bed with toys in the middle of her new living room.
Congratulations, Jasmine, on hitting the jackpot… and to your whole family too! Because they sure hit it with YOU!
jasmine
An All American Girl
http://www.doghouseadoptions.org/wp-content/tn3/2/326.jpg