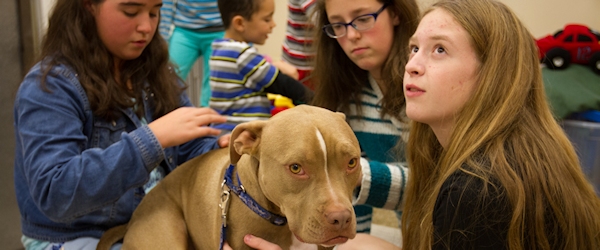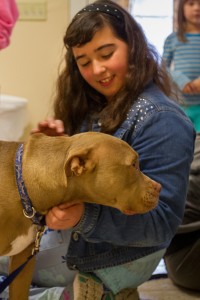 8 young girls from Girl Scouts Troop #1070 of Berlin, NY, spent two weeks working with Dog House Adoptions.  Cassie Costantino brought her dogs Nimee and Oliver, a certified tandem therapy dog team, and shared their talents with the girls. During our first week together, on October 8th, the girls learned about animal/human connections, breed prejudices, the plight of puppy mills, how disabled dogs love just like any other, and so much more. Dog House Adoptions President, Kim Clune, and Cassie, our Dog Director, tailored the presentation based on suggestions provided by Troop Leader Kristi Culbertson:
Animal Helper Badge Requirements
Step 1: Explore the connection between humans and animals.
Step 2: Find out how animals help keep people safe.
Step 3: Know how animals help people emotionally.
Step 4: Check out how animals help people with disabilities and
Step 5: Look at how animals might help us in the future.
Public Speaking Badge Requirements – 
Step 1: Get a feel for performing solo
Step 2: Focus on body language
Step 3: Find your voice
Step 4: Choose or create a piece to perform
Step 5: Get onstage!
The girls were so patient and engaged throughout our entire talk but, once asked if they'd like to come meet the dogs, this was clearly the winning moment. See for yourself!
The fun continued on October 22nd when the girls were revisited by Nimee and Oliver and Cassie brought a surprise with her that day – her newest puppy in red pajamas named Keeper. The girls employed the dogs – puppy included – as film extras while Kim filmed the girls' two original skits on why to rescue a dog rather than make a pet store purchase.
The girls then made a bucket of bacon and peanut butter treats and crafted toys from tees for our rescue dogs, which the therapy team and puppy were thrilled to pre-taste and pre-test!
We are so proud to say that the girls earned 2 badges, Animal Helper and Public Speaking, by doing what comes naturally to them — caring about animals. Way to go, ladies! Thanks for taking care of our dogs, and thanks for inviting us to spend time with you! We had a ball!