CURVES GENEROSITY
Audra Bentley, owner at Curves of West Sand Lake, and her club members hosted their 5th annual garage sale to benefit 9 local charities and it was a fantastic event.
For weeks, members brought in clothing, jewelry, never-before-worn and slightly loved shoes, household appliances, hardcover and paperback books, children's toys, golf bags, furniture, lamps and much, much more. Rain or shine, this sale was scheduled from 8 am to 3pm on September 7th and 8th at the 43 Mall in West Sand Lake  – and with hurricane threats, they held true to their rain-or-shine word.
HOW IT HELPS DOG HOUSE ADOPTIONS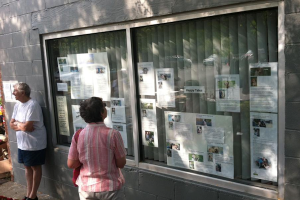 Dog House Adoptions had the good fortune of selling several big ticket items donated specifically on our behalf. A rarely used and freshly serviced snow blower went for steal at $100, a wooden desk for $25, and other items as well. Audra had solicited these particular donations as our Board Treasurer (and she also posts Dog House Adoptions' dogs in Curves' storefront windows).
Special delivery! DHA's Dawn Neibuhr, after placing our dog Bruce with his new family, dropped by to say hello which was fortunate for the purchaser of the desk. When it didn't fit in the woman's car, Dawn foisted it into her truck and transported it across town herself.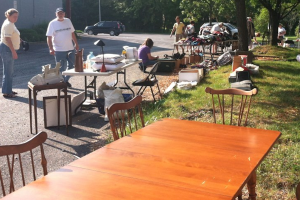 One very special item, a 1940's  drop leaf maple table with 7 colonial chairs was donated by DHA's own Kim and Tim Clune. Kim's gandmother's charished peice was appraised at $600 and went for $200 just as the sale wrapped up. The purchaser, an animal lover as well, donated an additional $50 over and above cost, and she loved the table, which Tim delivered straight away. Kim says:
My grandmother, Helen, cared for neighborhood strays of all kinds. She would be so pleased to know that her compassion lives on through me and that she continues to positively impact the lives of animals, even after her passing.
At the end of the sale, we had a $150 donation from Curves charity plus $364.50 from items sold and a $50 donationfor a total of $564.50!
THANK YOU!
To all the Curves' women, you are a compassionate and hardy bunch. Thank you for sticking it out regardless of hurricane threats. Even with attendance at an all time low, nine charities will benefit from your ceaseless donating, sorting, pricing, displaying, chasing blown bags across the parking lot, and moving tables inside, back out, and in again with every threatening cloud. We know that breaking down and donating what didn't get sold took as much effort as organizing the sale. Your hard work makes such a difference for our dogs. We are so very grateful.