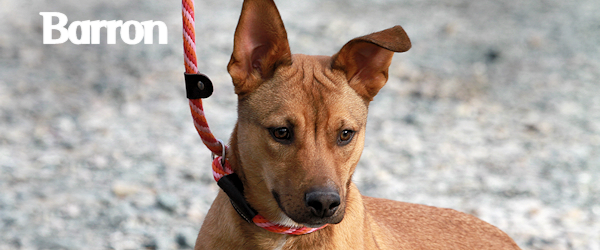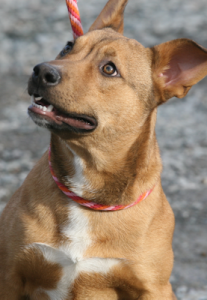 "What Isn't He?" Blend
Male, Ruffly 1 Year Young
Medium Size
Neutered and fully vaccinated

Hi! I'm Barron! I'm a very handsome and happy young boy – so much so that my face is featured on tons of Dog House Adoption's promotional goodies!
The day of Barron's now-famous photo shoot, he was described as an exuberant puppy in constant motion and we thought capturing his image would be a challenge. In direct contradiction, Barron parked himself between our Board Treasurer's feet, rolled upside down for a belly rub, and sat there smiling (no really, he smiles) as if his precious display of relaxed behavior was the most glorious practical joke. But it was no joke. Barron just loves human contact.
Barron is a smart fellow and ever watchful. He's always taking note of what his care givers are doing. No doubt, he's doing math, calculating how to maneuver an extra snuggle session or pull off the next goofy stunt. He is the perfect companion if you love a smart, funny, energetic dog who folds into your arms for a good, long hug and gives you his paw for a jolly shake.
Barron was found roaming in Schaghticoke on March 6, 2012 and was never claimed. Our best guess is that he looks a lot like a Basenji mix. That's all the history we know. All you need to know is that he's cuddly, charismatic and young enough to make plenty of life-long and adventurous history with you.
ADOPTED!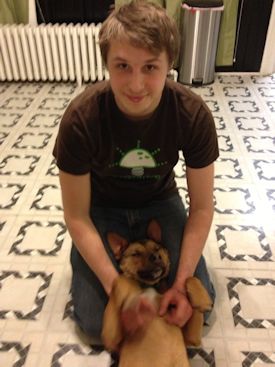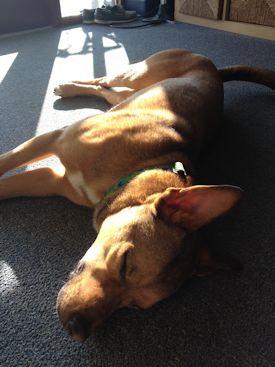 Our Cover Dog found forever love just hours before Valentine's Day with RPI grads Ian & Sarah and their Standard Poodle Qeenie! After two beautiful meetings, the deal was sealed. According to Sarah:
Ian and I fell in love with him and Queenie is excited for the opportunity to have another member of the family to socialize with.
Ian and Sarah both grew up with dogs and have a terrific understanding of how to make our Barron happy for life. (And their 10 foot fence around a large grassy yard is key for this jumping pup.) As an amazing aside, Barron's new pet parents aren't just helping this dog. They are hugely helping the planet. Ian and Sarah are working toward turning mushrooms into biodegradable packaging!
We enjoyed this update from Sarah and had to share:
Hi Kim,

Barron has quickly become Ian's best friend, always by his side.  He has found a favorite napping spot in a sun ray at work with us.  He's very social with everyone at work, everyone loves the new co-worker!  His first couple of nights went well. He and Queenie took turns trying to sneak on the bed with us and snuggle in between us in the middle of the night!  And Queenie is getting used to playing with her little brother. They both love chasing tennis balls so it's a perfect fit.

Once Barron eats all of his food, he likes to check on how far Queenie's gotten and if he can sneak in, so one of us is always in the kitchen with them while they're eating to catch him. lol!  Ian especially loves that Barron sits and offers his paw before he eats.

We love the newest addition to our family. Barron was a perfect early Valentine's Day gift to us all!  Thank you for such a well trained and energetic lovebug!

Sarah
Congratulations, Barron! We couldn't be happier for you!
Barron's Sponsorship Friends
Thank you, Amy and Rod Burkert of GoPetFriendly.com, for sponsoring Barron's neuter! Amy, as acting dog handler for Barron's  transport, you also provided hands-on help as well as financial sponsorship. Thanks to your kindness, clearly, Barron enjoyed his big day!