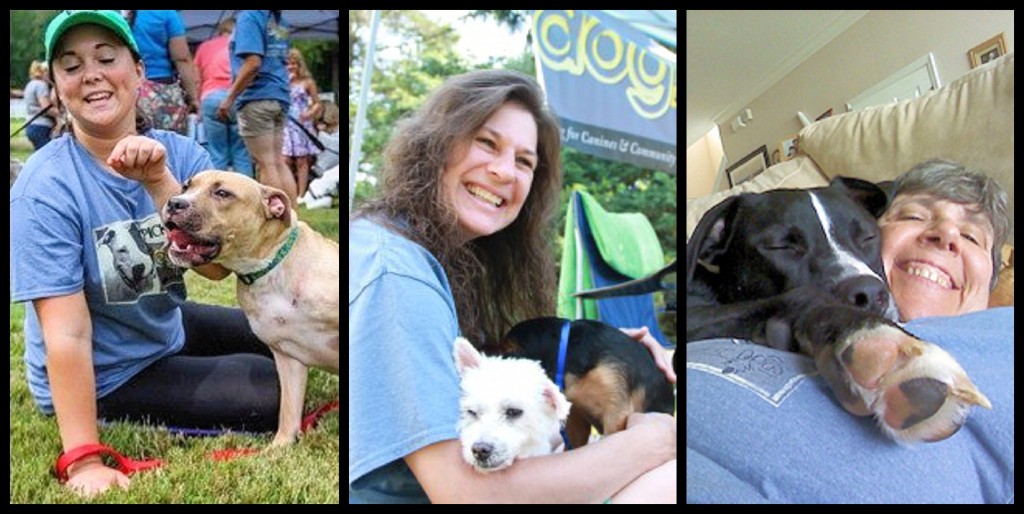 With a series of exciting shifts at Dog House Adoptions, we'd like to re-introduce ourselves! Our 2015 board members, Brittany, Audra and Marianne, have been involved with Dog House Adoptions for some time (Audra being a founding member!). We have come to love this organization so much, we are happy to serve as its legal guardians.
Get to know us, then help us change the lives of orphaned dogs for the better. They need you, and so do we. Apply today!
---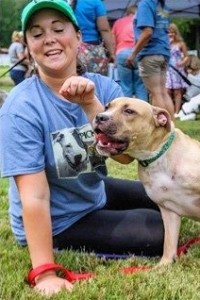 Meet Brittany DeJohn!
President, March 2015 – Present
Volunteer since May 2014
As a student of veterinary services, Brittany has an enormous desire to be deeply involved with the health of animals, but also the passion to be involved in the animal welfare side of things, too. Since her invitation to the Board, Brittany has investing many hours into learning all there is to know about our organization and, with her go-getter personality, has bright plans for our future.
As one of our most active and creative volunteers, Brittany already had wonderful dedication to our organization in everything from dog handling to fundraising. Taking full initiative, she has implemented entire campaigns to raise hundreds of dollars for the organization and a personal campaign to fund the adoption fee for one of her favorite dogs. She also has terrific experience as a volunteer cat foster, so she knows the ins-and-outs of what it takes to find animals loving homes.
---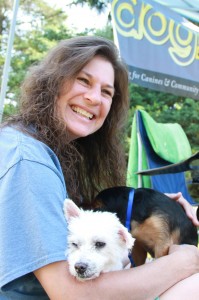 Meet Audra Bentley!
Founding Member
Treasurer, April 2012 – Present
Audra has been the keeper of books and manager of all things financial since our inception, but her compassion comes from all angles. As former owner of Curves in West Sand Lake, Audra rallied her members around enormous undertakings of community fundraisers for charity, many of which benefited animals. As a Pampered Chef representative, she rallied product parties to raise money for our orphaned dogs and donated her profits from those parties as well.
Audra isn't shy about doing what it takes when a job needs doing. She has committed to vet transports, handled dogs at clinics, organized volunteers, (wo)manned information tables, and had input on every aspect of this rescue since our founding. She has also taken a strong lead during our presidential transition. Dogs in need have a most sincere ally in Audra, as does this organization.
A lifelong Rensselaer County resident, Audra has grown up caring for local strays of all kinds. After accepting her board position in 2012, Audra returned a day later to adopt Tucker, a sweet senior boy who will live the rest of his days immersed in more love than he's ever known. Audra's commitment to this dog and our organization offers that same hope for all of Dog House Adoptions' orphans.
---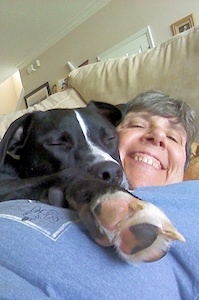 Meet Marianne Hoeppner!
Secretary, September 2014 – Present
Volunteer since May 2014
Marianne has both hands-on and administrative skills to accompany her deep love for all dogs. Her addition to the board has been a huge asset, from keeping meticulous minutes to registering every one of our microchipped dogs through FreePetChipRegistry.com. She now manages donor relations in an ever-growing rescue skill set so, if you donate toward our dogs through PayPal, it'll be her kind words that thank you.
Marianne joined Dog House Adoptions after losing her own dog to cancer. Not ready to adopt at first, she volunteered to walk with our rescued dogs. This type of volunteering is something she had never done before but she quickly fell in love with every dog she met and developed a fondness for our organization, as well. Walking dogs weekly, attending adoption clinics, and eventually adopting her latest dog from us (Sammy, now named Gunther), Marianne quickly became a treasured part of the DHA family.
---
Join Our Volunteer Group!
Join our volunteers who make the world a better place for so many lovely dogs! We're moving forward in exciting directions, from becoming a full-on foster network to offering meaningful volunteer opportunities with wonderful friendships and camaraderie. Join Dog House Adoptions today!