Meet the dog lovers behind the dogs, people just like you who want to do the best they can for dogs in need. Join us. Volunteer today!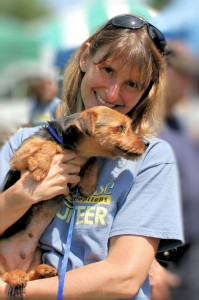 Kim Clune
Board President
Balancing a quest for global change with a desire to act locally, Kim blends her passion for animal welfare and philanthropy to serve dogs in need as well as the people of the Capital Region. With hands-on experience revealing the softest side of dogs once deemed "unadoptable," Kim believes that all dogs deserve the chance to shine, enriching people's lives through therapeutic, educational, and companionship opportunities. Her goal at Dog House Adoptions is to make as many of those connections as possible.
As owner of Mixed Media Matters, Inc., Kim promotes animal welfare and humanitarian aid initiatives using digital and social media. Founding member and 3 year Director of Be the Change for Animals, Kim's international activism site was awarded Best Cause Blog by DogTime Media. She also celebrates human/animal connections through writing, photography and film at ThisOneWildLife.com.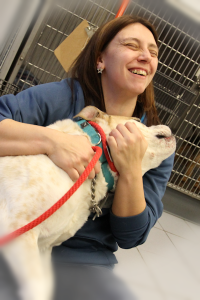 Cassie Costantino Hayden
Board Secretary
Cassie Costantino Hayden is a certified Animal Behavioral College Dog Trainer. All of her dogs have obtained their AKC Canine Good Citizen (CGC) Title working with her. Her mentor is Cydney Cross of Crossroads for Dogs. For nearly two years Cassie has taken dogs through and/or assisted Cyd with CGC classes around the Capitol District. She has taken many of her foster and dogs in need of a home through CGC training as well.
With years of experience as a dog and cat owner, a foster mom for over 60 rescue dogs and puppies, an employee of dog kennels and vets, Cassie started Oliver's Way, a pet sitting company offering training, feeding, exercise and play with dogs in their own home or at Oliver's Way Kennel Space at Troy Veterinary Hospital.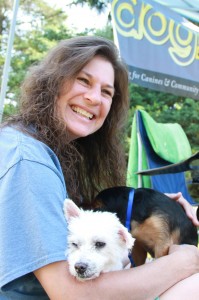 Audra Bentley
Board Treasurer 
Audra Bentley, a lifelong Rensselaer County resident, has grown up caring for local strays of all kinds. As  former owner of Curves in West Sand Lake, that mission continued as Audra rallied her members around community fundraisers for charity, many of which benefited animals.
After accepting her board position and meeting the dogs, Audra returned a day later to adopt Tucker, a sweet senior boy who will live the rest of his days immersed in more love than he's ever known. Audra's commitment to this dog and our organization offers that same hope for all Dog House Adoptions' dogs.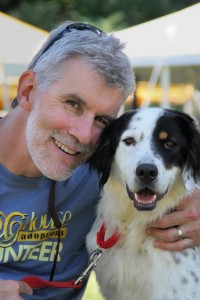 Tim Clune
Board Member
Tim Clune, a public interest lawyer by day, was a founding member and dog adoption chairperson of a local rescue in his off time, placing over 500 dogs during his 15 year tenure. After a brief hiatus, Tim enthusiastically returned to the world of rescue as Board President of Dog House Adoptions, serving during the organization's first year.
Originally from downstate, Tim has proudly called Rensselaer County home for more than 20 years and looks forward to addressing the unmet needs of stray dogs in his own back yard and for all dogs who cross his path.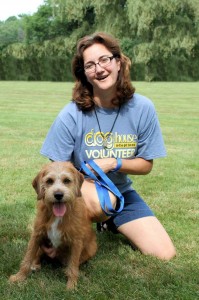 Lori Harris
Volunteer Dog Handler
Lori Harris, active in animal rescue for more than 13 years, has focused her volunteer efforts on dogs.
Working for a private development company that builds affordable housing throughout the U.S., Lori and her husband built their own home right here in Rensselaer County.
As the owner of the "very best dog" who was returned three times before finding her permanent place in this world, Lori is committed to helping as many very deserving dogs to find their homes too.