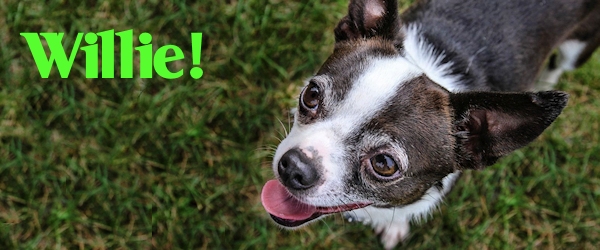 The Wily Flying Chihuahua
3-4 years old (best guess). Male
Neutered and Vaccinated
Willie the Wily Flying Chihuahua was discovered in Nassau, NY, cowering, exhausted, unneutered and uncertain. But Willie's true nature is nothing of the sort.
He can FLY!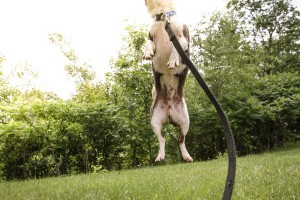 Willie — who has been cleaned up, neutered, vaccinated, well rested, treated for Lyme, and fueled by natural, healthy treats — is an exuberant little 3-4 year old bouncing bean that can happily launch 4 feet in the air! If you listen carefully, you might even hear him squeal "¡Ay, caramba!" as he flies through the sky. We're kidding about that last part, but it's conceivable!
(See for yourself in the slideshow below.)
Love bond: He sticks like glue!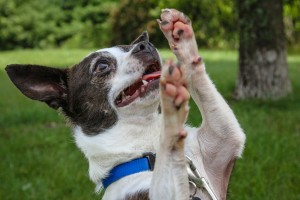 Willie wants nothing more than to be by your side. He's often found sitting right near your ankles, whether you realize it or not, but he's rarely underfoot.
In his foster home, he followed his mama around everywhere she went. If she ducked into another room for a minute and he lost track, he came skittering down the hardwood hallway, sliding past the door in an attempt to stop, scrambling back in a redirect and looking in with a head tilt and upright ears as if to say, "You called, mom? I came as fast as I could!"
He's a friendly fella!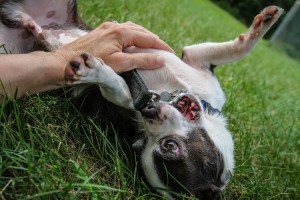 Willie loves to lay with you on his back in the lawn and playfully wrestle your gentle hand. And, good grief, if you have treats, this sweet pup with follow you to the ends of the earth!
Willie has learned to be this friendly with strangers, too, but he hadn't been well socialized prior to his foster home. Now that every visitor has a nice treat for him, he's already far more open to making new friends. In seconds, he drops his big dog sneer and romps for a good came of "Find the Treat."
Willie even made best friends with the resident cat and he's pretty comfortable around a large dog. His favorite company of all is his human.
ADOPTED!
After meeting at The Animal Hospital's 5th Annual Pet Adoption Day, Willie's prospective new mom got to ring the adoption bell, her favorite dog at the whole event in hand. After a lovely home sweet home visit, the adoption became official and Willie is "¡Livin' la vida loca!" with Michelle Rost and her two boys.
These pictures scream of the joy this family feels for Willie's companionship already. We can see, from day one, that this isn't just a best friend relationship. This is a lovely love affair of the canine kind!
willie-and-family
http://www.doghouseadoptions.org/wp-content/tn3/2/0254.jpg
willie
The Flying Chihuahua
http://www.doghouseadoptions.org/wp-content/tn3/2/426.jpg