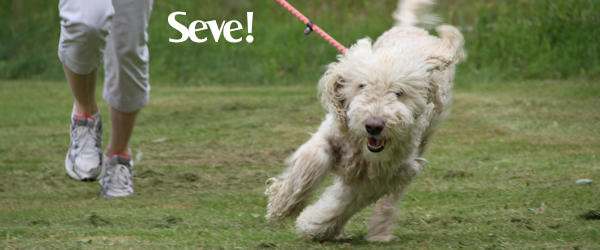 A Fun Loving PoodleDoodle Blend
I'm Seve, named after golf pro Ballesteros. I probably wouldn't do well to swing a club, but I sure love running around fields of green!
Seve was found wandering the streets of Pittstown, NY. At the time he was looking scruffy and lean, searching for a place to lay his sweet head.
What have we learned about this wonderful pup since? Even with the odds stacked against him, he never bore a competitive bone in his body, not even in the presence of another dog. Plagued my matted fur, Seve had to be groomed in stages which he patiently endured. Through it all, his winning personality always shone through.
According to volunteer dog walker Joan Michaels:
This 3- to 4-year-old pup loves all people of all shapes and sizes. In fact, you might call him the Ambassador of Good Will. Seve will make you laugh from the moment you meet him. He has the grace of a Standard Poodle yet the lovable goofiness of any one of the three stooges.

He walks handsomely on a leash yet runs around the yard in an ear-flopping, silly gallop ready for play. If you don't follow, he looks you in the eye from under all that crazy poodle "hair" and dares you to lead the chase.
ADOPTED!
Seve found his forever home with Judy and Howard thanks to a visit at Pet Adoption Day, and he is utterly adored! He has plenty of room to roam with the couple and their grandchildren and he has a brand new dog friend, Spector, a blind Schih Tzu, around which Seve is the perfect gentleman. During his first overnight, Seve slept like he's been at the house forever.
As for swimming in the pool, Judy says no way … but Howard says definitely. We look forward to seeing how that plays out. Most important is what they truly agree on, that they love sweet Seve already!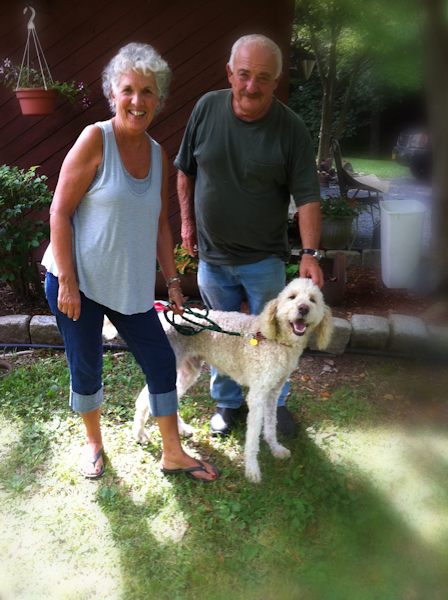 SEVE'S EARLY DAYS IN RESCUE