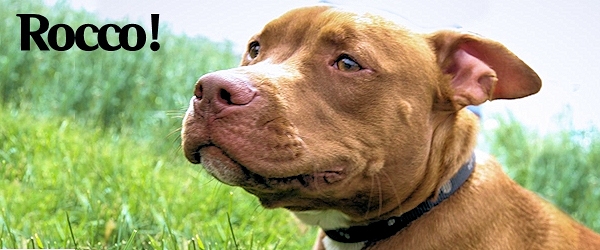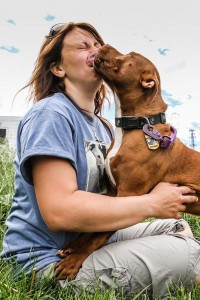 American Staffordshire Terrier Mix
Birthdate: 9/4/2013
Neutered and Vaccinated
This young pup is just 39 pounds — a Pocket Pitty, so to speak. But there's so much personality wrapped up in that little body that this "big dog" lover sure gets her fix. And Rocco loves to get his people love fix, too, playing kissy face and giving hugs freely.
Little Red Rocco Pup is already house trained and crate trained. He has some basic obedience training and a moderate energy level. He's friendly with new people, smart as a whip, and goooofy. His favorite thing to do? Roll and loll in the grass, traversing the hill upside down, snarfling the whole way.
Adopted!!
This boy was brought home by Amy Bateman and Chad Avery to frolic and play, kiss and hug, and roll in the grass, among MANY other things. Amy has this to say about their lives together.
Hi Kim,

Rocco is doing fantastic, we love having him as part of our family. We go for walks everyday and it's fun finding new toys or activities to keep him busy. He's a healthy boy and he's doing great with meeting new people and dogs. He's a little scared of his four cat siblings and they like it that way! His favorite games are doing crazy "zoomies" around the yard, playing "keep away" with his toys, and rolling around in the pacasandra. He also can't resist a good squirrel sighting. He's an active boy but he's also a champion snuggler and bed hog. We absolute adore him!

Thanks for checking in!

Amy
rocco
The Little Red Pitty Pup
http://www.doghouseadoptions.org/wp-content/tn3/2/221.jpg