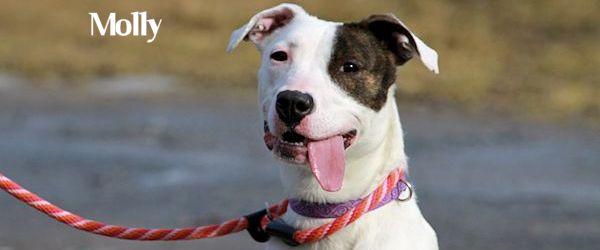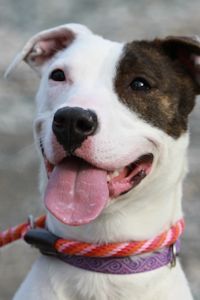 Priceless Pittie
Sweet Female
Fully vaccinated
Just over 1 year old
Hi! I'm Molly and I'm in an awesome home now!
Transitioning between municipalities at roughly 8 months of age, sweet Molly was found wandering at the Brunswick/Troy, NY line on September 20, 2011. Since coming to us, Molly's body, mind and spirit have begun to transition as well, blossoming in beautiful ways.
Then a thin and love starved pup, Molly is now a striking picture of good health with a winning smile, and her capacity for love knows no bounds.
Sit with her a short while. She will shyly search you out to press the whole of her side against your thigh. Within moments, that full yet gentle contact  melts her heart – and it will melt yours too.
A very smart girl, Molly loves to watch for ways to please you, whether active on leash walks or when learning commands. Molly also loves to run and play in the yard, her favorite toy being the Jolly Ball.
Molly prefers fun-loving people to the company of other dogs. Her manners are tolerant with them, but she draws the line when they jump or run up on her – so rough dog play is a no-no in her book. (We can't blame her. Who wants that?)
ADOPTED!
Molly's best transition yet? A special place she can count on for life with her new mom, Celeste, a dad, and a 2 1/2 year old boy to love. Already a good girl, Molly will surely flourish in ways we can't even anticipate now that she has a doting family. We can't wait to see how!
Molly
Molly: Embrace her Happy Face and Heart
http://www.doghouseadoptions.org/wp-content/tn3/2/Molly8.jpg