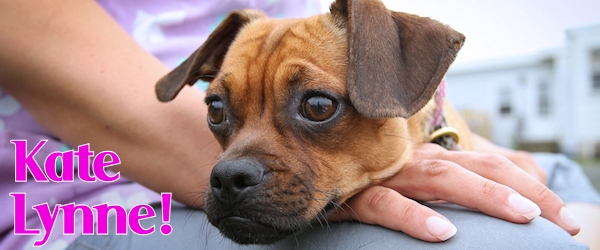 Little Dog, BIG life
While she trembled with fear at first arrival, Kate Lynne has since learned to greet the world with a brave and joyous heart. This 10-month-old puppy loves to burrow into your lap, stretch up to kiss your chin, and watch the world go by from the palm of your hand. She is eager to greet all of our volunteers for energetic walks and plays with reckless abandon in the company of our other dogs. She lived with and loved her 5-year-old girl until the girl's mother faced an advanced state of Multiple Sclerosis. That's how Kate Lynne came to us just 8 months after she was purchased.
A New Chapter: Adopted!
Kate Lynne is now adopted by another wonderful family, the Hladuns, where she was first drawn to the family's two young, joyful sons. The family lost their third son to cancer and have formed a foundation to help patients at Albany Med feel a little more comfortable during treatment. They were drawn to Kate Lynne when they saw her described as Brave Girl online. This is what they called their infant son during his battle.
Applying for Kate Lynne on the week of what would have been their son's first birthday, they met Kate Lynne for the first time on their wedding anniversary. Once introductions were made between Kate Lynne, the Hladun parents and their dog, the boys were given the exiting news. On July 27h, Tammy wrote:
We are loving Kate Lynn. She is currently snuggled on a blanket sleeping next to our boys. She has played hard with them.
This dog seems to have had a specific placement in mind and we did our best to fulfill it!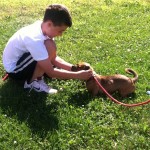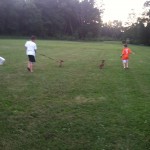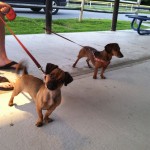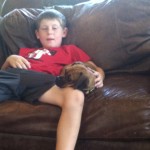 But this little pup doesn't just have a history bigger than her ten month life and a stack of paperwork heavier than her body weight, she has a heavy message that we can all learn from.
A Cautionary Tale, Told through a Puppy Mill Paper Trail
This happy, now-healthy, sweet, and brave puppy has the tenacity for survival, but Kate Lynn is also a dog with a sad story to tell about why not to buy pet store puppies. Please share with those who aren't aware of how the system feeds off of dogs.
It begins with a breeder…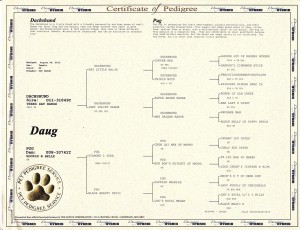 Ray Range bred a Dachshund Sire named Tebbs Zay Range and a Pug Dam named Rockin B Belle in Arnett, Oklahoma. They gave birth to a teeny, tiny puppy named Kate Lynne on August 30th, 2013. According to the puppy's bill of sale, Ray Range was listed with his former USDA license #73-A-2298. Under this license, he committed the most heinous violations before applying once more.
What does having a USDA license mean?
If you aren't familiar with what being a USDA licensed breeder means, this explanation is offered by the Humane Society of the United States (HSUS) in a piece called "Puppy Mill Double Speak – What shady puppy producers might tell you —  decoded:"
There are no USDA 'approved' breeders. There are USDA licensed breeders. While having a state or USDA kennel license certainly doesn't make one a puppy mill, neither does possessing a license make one a quality breeder. If a breeder is USDA licensed that means they sell their puppies to brokers or pet stores. Truly responsible breeders do not sell their puppies to pet stores; they want to meet their puppy buyers in person and do not sell their puppies to the first person who shows up with cash in hand.
Ray runs a documented puppy mill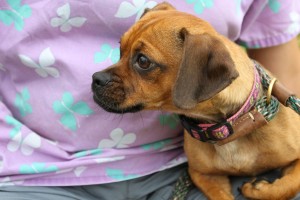 Ray Range is not a quality breeder, and not just because he breeds enough puppies to require a USDA license. He also gets a less than glowing review in "101 Puppy Mills: A Sampling of Problem Puppy Mills in the United States." On page 25 in this 2014 report from HSUS, it says:
During a May 2013 Oklahoma state kennel inspection, inspectors found several violations, including the fact that the breeding dogs at D & B Kennel had no rabies vaccinations. There were a total of 87 breeding dogs at the facility, according to the report, and the inspector noted that the kennel sells puppies through the Hunte Corporation. The Hunte Corporation is known as the largest puppy broker in the country and ships puppies to pet stores across the United States. Although eight-week old puppies (the age normally sold to Hunte by breeders) are not old enough to have rabies vaccinations, having no vaccinations on the parents of the puppies could present a significant health risk to the puppies as well as a public safety concern. Ray Range was also previously licensed by the USDA under USDA #73-A-2298, although his license was cancelled in November. In January 2014, Range applied to re-activate his USDA license. During a pre-inspection visit, a USDA Veterinary Medical Officer found numerous dogs in need of veterinary care, including dogs with signs of dental and eye disorders. During a January 2012 USDA inspection, an inspector noted that the "ammonia and odor level was very high to the point that it was hard to breathe the air and stung my eyes throughout the inspection." Puppies were also found with "their entire feet and legs" falling through gaps in the wire flooring. In July 2011, many similar repeat violations were found, including dogs with swollen or oozing eyes and hair loss, and some dogs who were so badly matted that the inspector couldn't see their eyes. Former USDA #73-A-2298. New USDA #73-A-2676.
This is the filthy prison life that Kate Lynne's parents are resigned to.
The puppy ships to The Pet Zone in Albany, NY
So, what happened to Kate Lynne? With a documented underbite and umbilical hernia repair on October 31, she was crated up for a very frightening trip to New York at just 8 weeks of age, 4 days after surgery. She landed in Albany, NY, on November 4 having been purchased sight-unseen from a documented puppy mill breeder by The Pet Zone in Crossgates Mall.
A little girl falls in love with her little Daug
During a shopping trip to the mall with her mom, a tiny girl fell in love with this tiny Daug. Daug isn't just a cute way to spell dog. Kate Lynne is "certified" by the American Canine Hybrid Club (ACHC) for her hybrid Dachshund and Pug lineage. What does this amount to? A super sweet, fancy, and very expensive mutt with an adorable moniker.
Kate Lynn was purchased on November 30, 2013 for $1,099.99. And buying a pet store puppy cost her owner far more than the purchase price. All that thick, fancy paperwork complete with gold seals, lineage charts, and ACHC labeling couldn't hide the fact that this was a very sick puppy mill puppy, whether her owner immediately recognized it or not.
The Daug takes a turn for the worse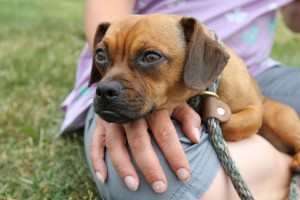 Watching helplessly as Kate Lynne suffered from severe respiratory issues, lethargy and weight loss within 48 hours, Kate Lynne's owner payed a significant emotional toll as she worried whether her daughter's beloved puppy would survive.
Kate Lynne, who the vet notes had "lost her puppiness," traded eating and drinking for shivering and sneezing. She was hospitalized and treated for 5 days with fluid therapy, two different antibiotics, topical medication, and a nebulizer. Her vaccines were held off for fear of taxing her already compromised system.
Staking a claim
Kate Lynne's owner contacted the office of Eric Schneiderman, New York State's Attorney General, about her $2,017.63 veterinary expenses to heal this puppy. The Pet Zone's response said they would honor their warranty by covering kennel cough, an upper respiratory cold, or Pnuemonia because it presented within the first 14 days after taking the pet home, per their Pet Health Warranty Contract. But, they would not pay above and beyond the $1099.99 purchase price of the pet, also per their Pet Health Warranty Contract, which Kate Lynne's owner signed. When she did, she never expected her dog to fall so ill and so fast.
The Daug gets better, but her owner's heath fails
The bills are now paid by both parties (nearly as additional 1000 by Kate Lynne's original owner) and Kate Lynne is as healthy as a teeny, tiny horse, but Kate Lynn's former owner is not. She suffers from a rapidly advancing stage of MS and her daughter, whom the dog was purchased for, is now in care where the dog can't join her. The family had to surrender the puppy to us.
What Kate Lynne Needs Now, from YOU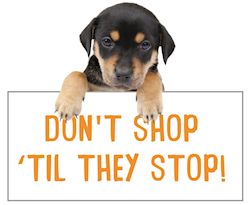 Kate Lynne has survived a puppy mill, a distant transport,  a debilitating illness, the loss of the only owners she's ever known and loved — and she's bravely pushed through it all toward the life she deserves with her new family. But she needs one thing more…
Kate Lynne needs you to take the pledge: "Dont shop. ADOPT!"
Making informed decisions truly saves lives.
Learn how you can avoid supporting the puppy mill industry at the ASPCA site.
kate-lynne
The teeny, tiny Daug with a huge tale to tell
http://www.doghouseadoptions.org/wp-content/tn3/2/0332.jpg