During Dog House Adoptions' holiday donation campaign, our sweet rescue dogs wished for happy homes. But, as the hourglass ran out on 2012, your kind generosity still made their holidays bright!
Our stockings were STUFFED!
With your help, the Dog House Adoptions dogs received:
$985 in cash donations –  worth just over 8 weeks of dog food – and a $15 Walmart Gift Card – bringing us to $1000!
THIRTY POUNDS of boxed treats, a bag of rawhide, and a bin of pupcorn has these pups sitting pretty on command.
6 femur bones keeps dogs happily occupied in their runs. We won't tell them it's healthy for their teeth too.
A bag of dog food – already gone – served as the perfect holiday meal
Keeping their beds snuggly soft, bowls clean, they were also happy to receive a bottle of laundry detergent, dish soap and 3 blankets.
3 new toys are a welcome addition for all to share in the play yard and that enjoyment is what holiday giving is all about.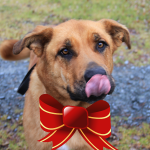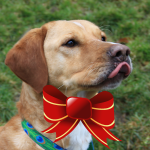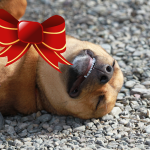 Thanks to YOU!

Thanks to all our dogs' friends and adoptive families who donated now and throughout our first year. And thanks to Curves at 43 Mall in West Sand Lake for accepting goods on behalf of Dog House Adoptions.
The pups had a wonderful break before resuming the hard work of charming prospective new owners into giving up a corner of the couch.
Donations are Still Being Accepted, Now and Always.
General donations can be made online through PayPal. Please visit our Donation Page for alternate payment methods and a full list of needs.
Every bit helps a dog!
Dog House Adoptions is an all-volunteer, not-for-profit 501(c)3 organization which relies on contributions, adoption fees, small grants, and fund raising events to provide for the dogs in our care. All contributions are deductible to the fullest extent of the law.