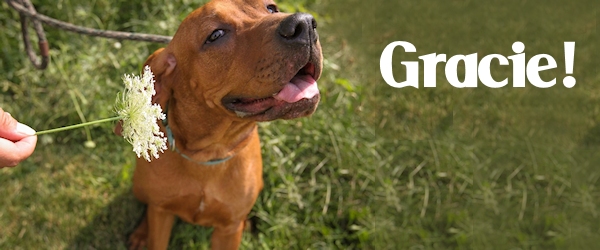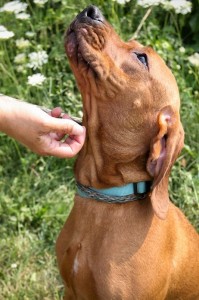 Gracie is a bouncing 6-month-old bundle of Coonhound mix sunshine with a goofy energy who brings joy to all she meets. She's wiggly and wobbly, like a slinky, with the energy of a wind up toy – highly active until the spring quickly unwinds. She is also sweetly even-tempered, great with the dogs, kids, cats, ad adults she used to live with. She's even kind to strangers.
Gracie's appreciation for affection can settle her pouncing puppiness to a sit with a quick scratch under the chin. She'll require typical puppy training for basic commands and leash walking, but her eagerness to please will go a long, long way. She makes beautiful, adoring eye contact, indicating an eagerness to please, and she's already house trained and crate trained, so far.
Gracie and her twin brother Solomon were surrendered from a household with too many animals. Typically, we don't recommend that two puppies from the same litter are homed together, but these two are so sweet and kind to people and to each other that we would gladly do so. Of course, they can also be given their own special homes where each is the sole recipient of love and devotion.
Adopted!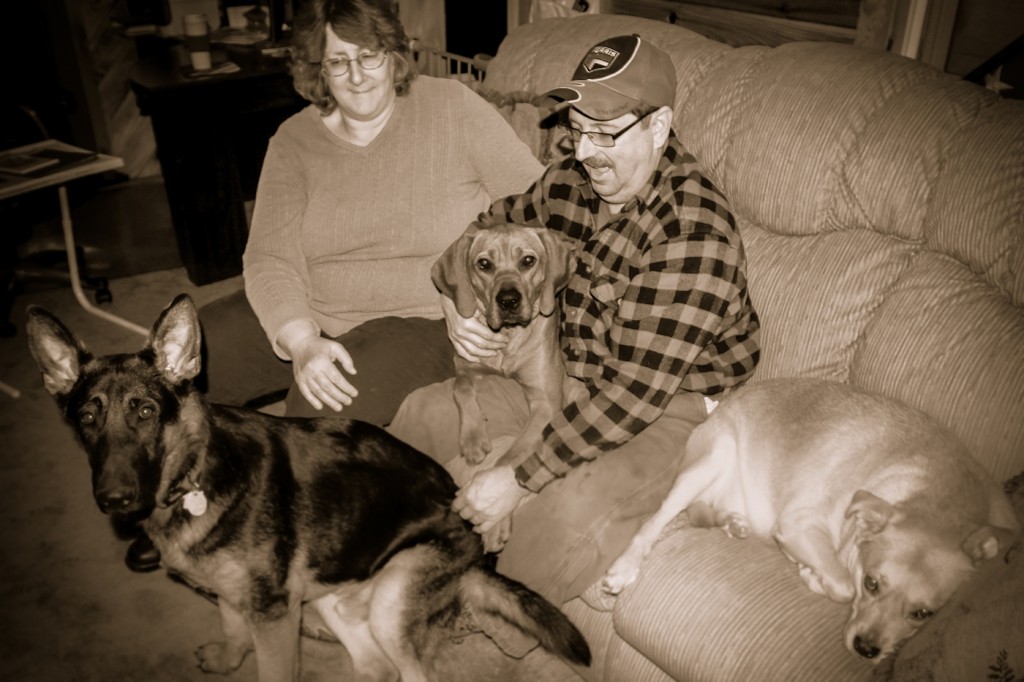 Gracie has gone to the dogs – making best friends with 2 of them! Michelle and Gary Thornhill were looking for love as well as a friend for their rambunctious Shepherd pup, Samson, who would take the pressure off of their older dog, Rocky. During their home visit, the dogs had some adjusting to do, but we had high hopes. Watching Gracie crawling into the lap of her new papa, both cuddling on the couch, made our hearts melt. She could do no wrong – even when she did. We received this email from Michelle and solidified Gracie's adoption just in time for Thanksgiving 2014.
Gracie has been good for both Samson and Rocky. She has been a good playmate for Samson and Gary gets to sleep until 4 PM most days when they (all 3 of them) decide it's time to eat. Rocky is playing with her more often now. She has however become Samson's partner in crime and the 2 of them take things outside that I've never had to worry about. For instance she seems to have a thing for paper products and took about 1/2 a package of napkins as well as the Sunday paper that I left on the table outside. Gary even found Gracie standing on the kitchen table with the bag of cheese curls in her mouth. While I was writing this one of them (Samson or Gracie) took one of my shoes outside and I had to go into the fenced yard to retrieve it. If I don't put them up on the self when I take them off, they disappear. On the upside, it has caused me to make sure everything is picked up before I leave for work in the morning or at night with I go to bed.
Gracie is so grateful for her new family and all their wonderful patience. They'll all be going to obedience classes together for some bonding and "better blending" of human/dog relationships. LOL. For now, Michelle continues to hide shoes, remote controls, and everything else that's in plain sight. We look forward to hearing about their progress!
Congratulations, Thornhill family!