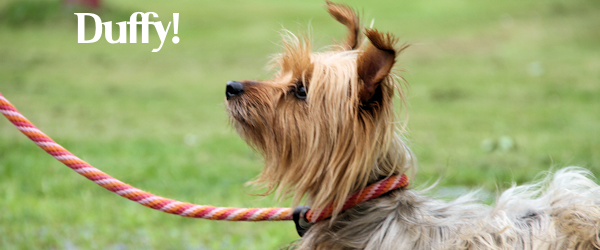 Silky Terrier
I found my place  - and a new name – in the arms of my new mama!
This pocket pup traveled all the way from Nebraska – and hopefully not in a pocketbook. His microchip may lead to a dead end, but as Duffy believes, it's time to meet a new best friend!
As best friends do, this talkative little fella happily chats with you. And he's a good listener too, with perky little ears that rise to the occasion. He tucks himself into the crook of your arm and snuggles up to you with his charm. Because that's what he loves best.
ADOPTED
Lisa and Aiden first met met Duffy at July's Pet Adoption Day event. Duffy had a face full of kisses and a huge heart wrapped up in a furry little package all for his brand new family. Lisa was looking for a little lap dog of her own since her Pitty and Shitzu had adopted each other as pets. During their home trial, Lisa wrote:
Things are going great!  Gets along great with the other dogs, and seems infatuated with Aidan.  He slept at my feet all night.  He's getting more comfortable with his surroundings, he had a sprint around the living room this afternoon that was hilarious! He's marked every tree on the property, and overall seems like he's a good fit.  We decided to change his name to Finn, short for Finnster.  Finn means light haired in Gaelic, so it seemed appropriate.  I think he's a keeper.
And, with that, the contract sealed a beautiful little love affair…
Duffy
Duffy, now Finn, the sweetest Silkie Terrier
http://www.doghouseadoptions.org/wp-content/tn3/2/Duffy2.png