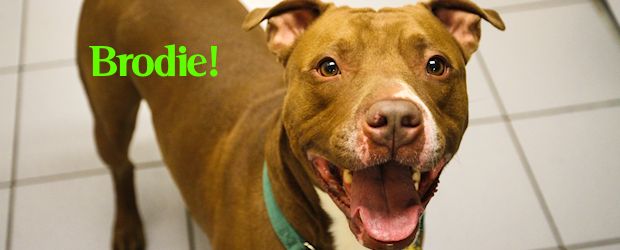 Playful Pit Bull Boy
Neutered, Vaccinated Male
2 1/2 Years Young

Hi! I'm Brodie. They say I'm sensitive to people and situations around me. They say I'm extra special. So, after weeks of training, I became a certified Therapy dog and Canine Good Citizen — all in one night!
In September of 2013, Brodie was abandoned in. When a caring individual released him from the tree to which he was bound, an overcrowded Animal Control suggested tying him back up or setting him loose. Instead, the kind person did one better. Peppertree Rescue was called, and their volunteers transported Brodie to our very own dog behaviorist and trainer, Cassie Hayden. 
Brodie spent his next 6 months in Vermont learning to abandon his now unnecessary survival skills under the tutelage of Cassie's friend Sara, a service dog trainer. Brodie learned to resist counter surfing and rooting through the trash and he indulged in his love for fetch and companionship with people and pets.
Although Sarah's waning health prohibited her from training more than the basics, Cassie says:
Sara taught him house manners and saw what I saw, an amazing dog. Brodie has something I can't describe. A calm yet absolute love for people. He is extra special. 
So, Brodie came back to New York and began training for Therapy Dog International as of March 17th, 2014.  "I expect him to do very well," Cassie said with confidence as they began. And so he did! Brodie was decorated with both his Canine Good Citizen and Therapy Dog International titles on April 27th!
Brodie has so much going for him, but he still needs the most important thing of all, a loving home. Friendly, playful, house trained, crate trained, good with dogs and kids, fond of car rides, neutered, vaccinated, and microchipped… any dog lover would be lucky to have him by their side for the rest of his loyal life. As Sara says: You can't go wrong with adopting this guy! He is a sweet, goofy, best buddy kind of dog that can make you laugh on your hardest day!!
Adopted!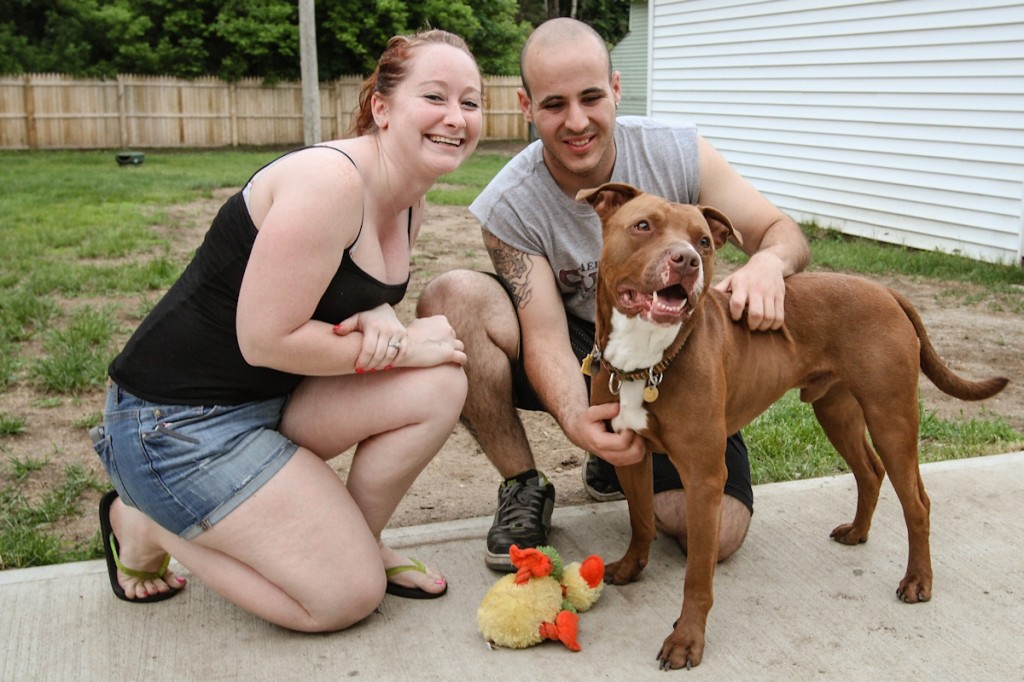 Becoming a solid gold friend to this copper colored beauty of a boy, Justin and Brittany brought him into their home to love him forever.
Brodie was so excited, he ran back and forth through the yard with his toy duckie, leaping over the unlit fire pit in a single bound and bolting back and forth in and out of the back porch doorway. He has full reign over the furniture and lots of hugs to be had from his new pet parents.
Justin and Brittany are eager to start classes with Brodie to learn what he already knows and how to speak his language. We suspect they'll be pretty busy tossing that toy duckie too.
Brodie may hold CGC and TDI titles, but now he holds something even more important… his very own family in his heart. Congratulations, Brodie and family! Brodie's life is now complete!