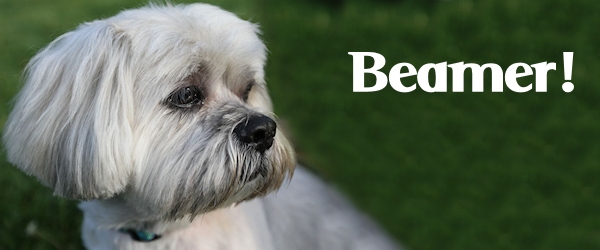 The Dandiest Dinmont Terrier
Special Senior at 10 Years Young
Neutered and Vaccinated
Hi! I'm Beamer and I found the loving warmth of a forever home!
This little dog, perfect for most any household, already has basic training — as is the joy of having a senior dog. He's leash trained, crate trained, and does well in a car. He's obedient, playful, affectionate and even-tempered. He's good with dogs, cats, adults and children. He's even neutered, vaccinated and very healthy! In fact, he is absolutely everything you'd raise a dog up to be, making him a beautiful companion in every possible way for a house or apartment.
What Beamer hadn't been was lucky. Beamer grew up with an older couple and, while his human mama fell ill and went into the hospital, his daddy died of a heart attack. Beamer fell into the son's hands but he wasn't well cared for, so a family friend took the dog to the vet and found him a new home.
Six months later, the new family hosted a children's birthday party and a child jumped off the couch and directly onto poor, sweet Beamer' s back. When Beamer snapped in defense (causing no injury), the family stuck Beamer in a shelter. When he came to us, he was so matted, he needed a sanitary haircut to eliminate freely. (Thank you, Capital Agway, for grooming our boy at a reduced rate!)
Beamer is now out from under all that doom and gloom, with his awesome new makeover and perky little fluffed ears. He's healthy, happy and with a lot less hampering hair! And somebody finally gave this dog a lucky break!
Adopted!
All Beamer needs, at ten years of age, is a family who can offer him a stable household. He needs to be loved and give love with the absolute certainty that he will be safe and stationary all the rest of his years.
Bruce and Nancy Feller offer these exact things. As Nancy says with a chuckle:
We're seniors and he's a senior, so we're well suited for each other.

We recently lost our Sammie, a Bischon Frise. My husband has always had a dog, which becomes his constant companion, he needs his pooch.
The minute Beamer postured perfectly on his haunches, demurely waving his front paws for treats, Bruce said, "I want him!" The two retired to the couch together after Beamer tried to comandeer his new papa's recliner. Nancy joined in the fun, too.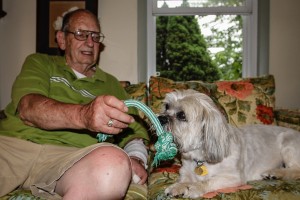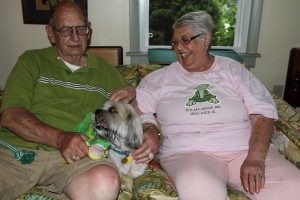 Meanwhile, cats Freddie and Frankie are adjusting to their new roommate, unimpressed by his tricks. We're sure they'll work it all out. Nancy and Bruce have plenty of love to go around for all three of them.